Explore Santorini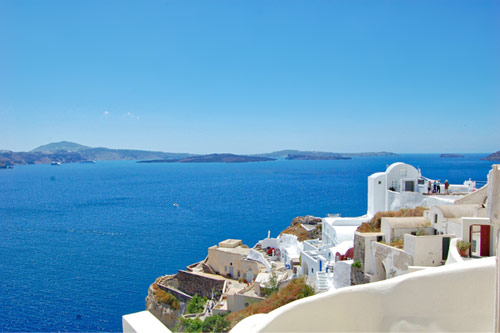 Santorini is a wonderful island of Cyclades, top destination for travelers from all over the world. Its postcard-like landscapes have turned Santorini into a legend, inspiring dreams of a lifetime. The island has been shaped after continuous volcanic eruptions, creating the imposing caldera and fierce rock formations all around. The volcano still stands there in the archipelago, reminding everyone of its presence. 
The world's most romantic sunsets belong to the island of Santorini. The sun melts slowly into the deep blue sea, spreading warm colors into the sky. Travelers are welcome to enjoy this spectacular phenomenon day in day out, standing atop the steep cliffs at the picturesque settlement of Oia, Imerovigli, Akrotiri, Fira or anywhere else. Sunrise is an equally thrilling moment on the island, awakening the senses and triggering a deep appreciation for life in its simplicity. 
Once you visit Santorini, you cannot help but fall in love with its charms. The quality local products found nowhere else in the world, the distinctive Theran cuisine and the volcanic aura embracing the island, the vibrant lifestyle of the capital, Fira town, the splendid whitewashed houses along with the emblematic mansions in Messaria, the wonderful activities and finally the lunar-shaped beaches, all these elements create a unique, dreamy destination surrounded by eternal blue!