ALTERA PARS LUXURY SUITES
Discovering the Magic of Santorini's "Other Side"
Altera Pars, meaning the "Other Side" of Santorini. A more natural side of the island, authentic and closer to tradition, local lifestyle, colors, aromas and tastes. 
Exquisitely located in the middle of the island at the picturesque settlement of Mesaria, Altera Pars Suites composes the dream in Santorini. A brand-new concept, 14 luxurious suites with private heated plunge pool or Jacuzzi.
LUXURIOUS STAY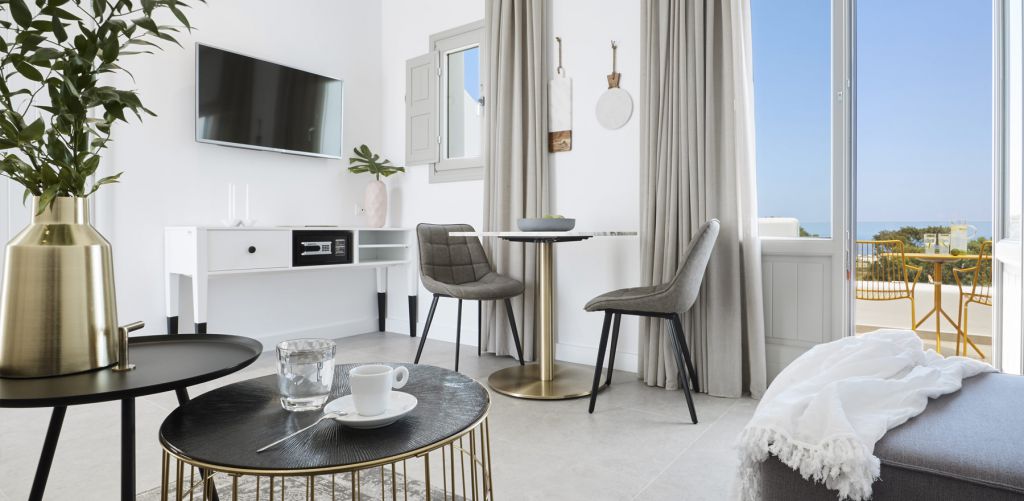 Honeymoon Suite with Outdoor Heated Private Jacuzzi
Surrender to the idyllic atmosphere of our Honeymoon Suite, the ultimate place of romance for couples in love!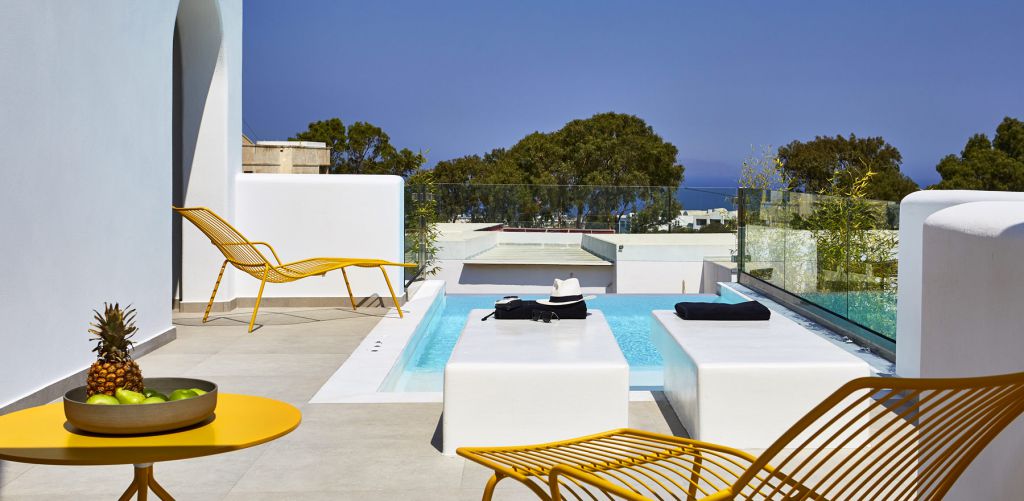 Prestige Suite with Outdoor Heated Private Pool
Enjoy prestigious living in Santorini, indulging in the luxurious environment of our Prestige Suite.
BRAND NEW EXCLUSIVE SUITES IN A LUXURIANT AMBIANCE
Unparalleled comfort and style in the picturesque village of Messaria
With special attention to the slightest detail, at Altera Pars Suites we have created a place of exquisite elegance and refinement. Welcome to our property, where fantasies are brought to life through luxurious touches and architectural innovations. A true gem in Messaria awaits for you to enjoy!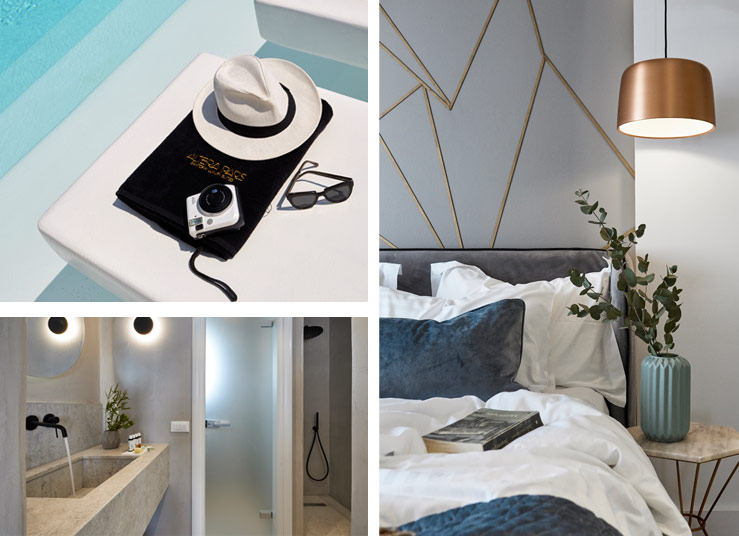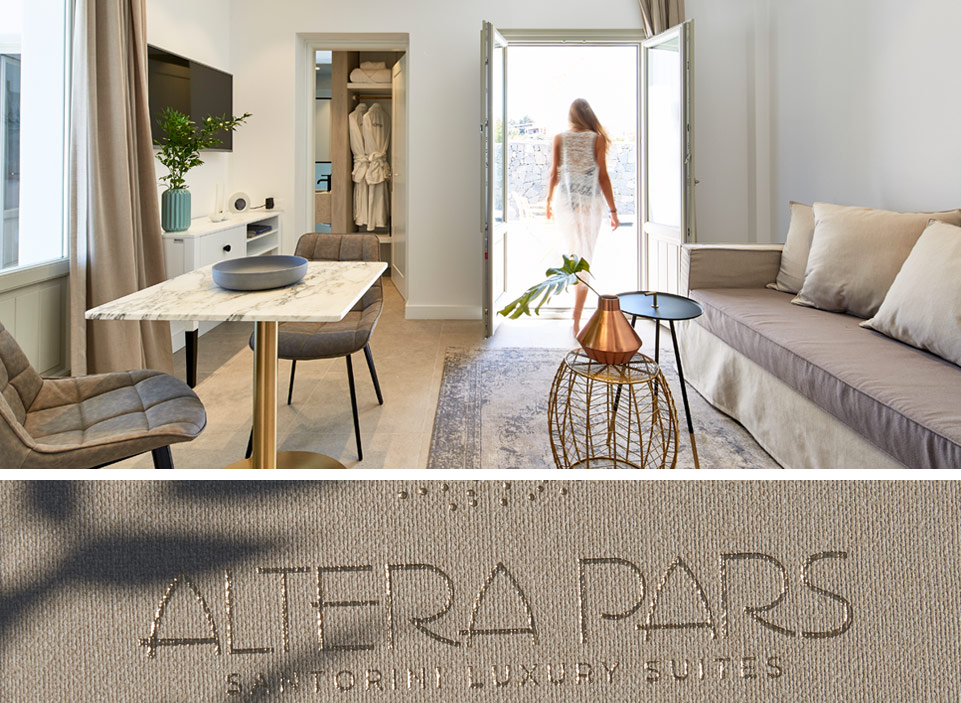 PRIVATE POOLS & JACUZZI
Bathed by the Greek summer sun, enjoy magical moments of relaxation

The private plunge pool and Jacuzzi compose an ethereal setting for endless moments of pleasure, relaxation and rejuvenation. Surrender to the wonder of Santorini island, feeling its unique aura and experiencing its beauty from the perfect point of view!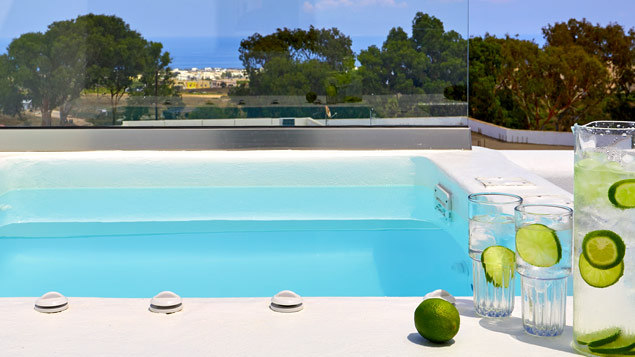 Greek traditional handmade products of the finest quality served in your private retreat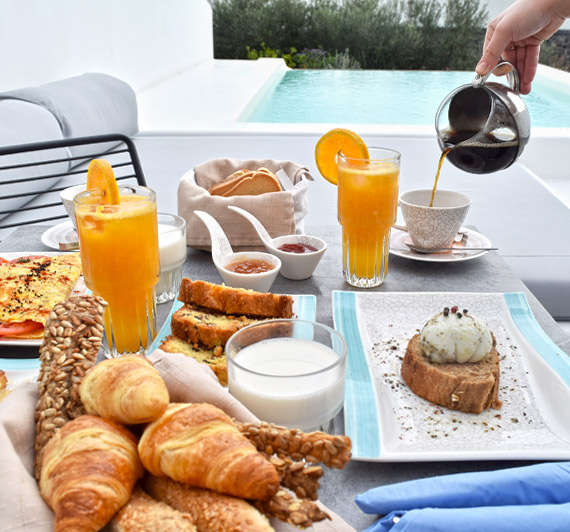 Start your day with a heart-warming breakfast, inspired by the rich treasures of Greek gastronomy. Local products of the highest quality standards combined in the most thrilling breakfast delicacies will make you smile wide!
READ MORE >