Santorini Beaches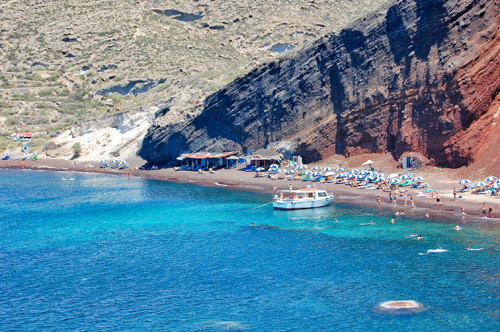 If you are dreaming of emerald waters and welcoming beaches of lush greenery and soft golden sand, then Santorini should definitely not make it to your bucket list. However, if you are looking for a unique experience in the Aegean Sea that seems out of this world, then sail away and reach the island's shores! Lunar-shaped and resembling a crescent, most of Santorini beaches will take you to a whole new world of wonder. 
The Red Beach is perhaps the most famous beach on the island. Located on the southwestern part of Santorini, upon accessing the beach you will be blown away by the enormous scarlet-red cliffs and pebbles on the coast. Then, a few moments away lies the White Beach. An equally spectacular place for a swim or sunbathing, only with all-white rock formations embracing it. The Black Beach also reveals its special character, with total black rocks and sand forming a memorable landscape. 
Vlychada Beach is another splendid place, surrounded by dunes that create the most magical forms all around you. Kamari Beach, Perissa and Perivolos are also amazing beaches, organized and with soft black sand. The transparent waters of the Aegean Sea complement the island's coastline in a breathtaking manner, offering guests the opportunity to experience something out of the ordinary...Much more than a swim and a place to soak up the Mediterranean sun!